A getaway for all generations in Wrightsville Beach, North Carolina
Sand, Surfing and Standup Paddleboards
By Keryn Means
As I squished my toes in the sand, I looked over at my younger son, Ty, as his grandfather stood him on a surfboard for the first time. He was three years old and was learning the family legacy. The men in my husband's family have been surfing since they could walk, and my boys would be no exception. Wrightsville Beach, North Carolina—an active little beach town with an island, surf-town vibe—was where the initiation started, and it would continue for years to come.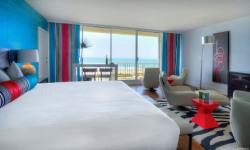 To be honest, my husband (Mike), our two sons and Mike's parents would be coming here even if it weren't for our family's tradition. Each sunny day is spent jogging or biking the Loop, a 2 ½-mile trail around the island, or hopping on a boat with Captain Joe, a tour guide and area legend, and more. We were staying at the Blockade Runner Beach Resort, a full-service hotel with a summer camp, Sandcamper, which was named one of the best resort kid's clubs in the country by USA TODAY. This setup was perfect for our family. The kid's club allowed the kids to have a blast while the adults pursued their own activities on and off the beach. Here is exactly where we want to be.
Surfing and standup paddleboarding
My boys are still relatively new to the surf experience, so we booked a few beginner surf lessons for my older son, Dek, and an advanced class for Mike and his parents with Indo Jax Surf School, a program that caters to kids four and up. Since Ty wasn't quite old enough to join the official lessons this year, he sat on the front of my standup paddleboard to watch his dad and brother ride the waves. Ty loved it, and eagerly anticipated being out in the waves with the big boys in just one more year.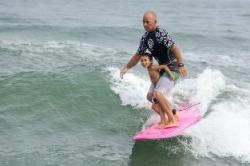 National Geographic has recognized Wrightsville Beach as one of the top surfing towns in the world. Plus, this laid-back town is known as the pioneer in East Coast surfing and the birthplace of surfing in North Carolina. Wrightsville Beach is perfect for our active family—we love to get wet, and we have fun doing it. I couldn't stop smiling as I watched everyone dive in with their instructors and give it their all. Dek, who is only five, ended up riding a board with his instructor most of the time, but Mike and his parents successfully caught multiple waves. I laughed at their huge matching grins as they walked out of the surf as the sun began to set. Nothing would ever beat that feeling of contentment they each had after hanging ten in Wrightsville Beach.
I make a note to bring Dek and Ty to see the Waterman Hall of Fame—Mike took me a couple years ago, and now that our sons have some surf experience, I think they would love it. Housed in the Wrightsville Beach Museum of History, it tells the story of individuals who have made a positive impact on the island's surf culture, which dates all the way back to 1909.
A learning experience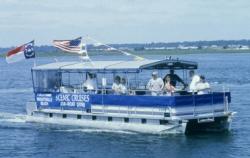 Captain Joe, an iconic and much-loved figure in Wrightsville Beach, loves showing off the Intracoastal Waterway and Masonboro Island Reserve to families with kids of all ages through Wrightsville Beach Scenic Tours. In previous trips, we've taken his Pirate Island Treasure Hunt—a big hit with the little ones. We opted for something a little different this time with the Beach Eco Tour, an educational tour led by Captain Joe that taught my boys all about the coastal environment. Captain Joe has a B.A. in Environmental Science, and he's passionate about educating people on the importance of our planet, the creatures that call the island of Wrightsville Beach home, and how we can help preserve this precious piece of North Carolina by fishing responsibly, keeping our trash with us and disposing of it properly once off the boat. After our tour, the whole family—grandparents included—walked away with a new appreciation of this waterway, and we couldn't wait to explore with Captain Joe again. 
Date night
After we had worn out Dek and Ty on the beach, in the surf, on the water and across the trails, my husband and I snuck away for a little alone time. Date nights are a perk of traveling with grandparents, right? We started our night browsing one of the island's boutiques and picked up a few gifts before splurging on a good meal. That night we headed to one of our favorite local spots—Tower 7 Baja Mexican Grill. We indulged in some fresh fish tacos and margaritas as the sun set on our beach vacation.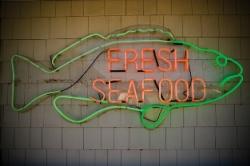 Sand and surf isn't the only thing Wrightsville Beach has to offer our family, but it is definitely the thing that brings us back time and time again. Whether we stay in a hotel, or we rent a big beach house for the week so we can cook up all the fresh fish we can find at Motts Channel Seafood, family time together, great food and beautiful sunrises each morning make every trip to Wrightsville Beach a beautiful memory. This is one tradition you can bet we will continue for years to come, and I hope my boys return with their own families one day for another round of eagerly anticipated surf lessons.
Request a free Visitors Guide and start planning your family's getaway to Wrightsville Beach