By J. Skipper Funderburg,
      Surfer/Surf Historian/Author, Surfing on the Cape Fear Coast [SlapDash Publishing]
Surfer, Outdoor and Men's Journal magazines frequently refer to Wrightsville Beach as one of the best surfing beaches in the USA. The shores on Wrightsville Beach are, indeed, perfectly suited for cultivating the pursuit of riding waves.
Riding waves represents something different to each person who does it, and those perspectives are a part of what makes surfing so interesting. Wrightsville Beach embraces the surfing lifestyle and recognizes it is much more than a pleasurable diversion. The subsequent physical benefits of surfing are numerous. Find an avid surfer and what you have is one physically fit human being.
Surfing has been around for thousands of years and more people surf today than any time in history. It made perfect sense to revive surfing in Wrightsville Beach in the early 20th century. Beach safety and ocean activities had already done their part by raising the public's regard for the ocean. Surfing was on a growth trajectory, which remained unbroken through the 21st Century.
Surfing, lifeguarding and swimming grew and developed as one during the early 20th century, which increased the general public's appeal. Jim Sullivan and Mike Spencer were two of Wrightsville's notable surfer-lifeguards during this era. Today, the Town of Wrightsville Beach Ocean Rescue Squad is responsible for ensuring public safety on the beach and in the surf. Ocean Rescue employs thirty U.S. Lifesaving Association Certified lifeguards who man the lifeguard stands, all-terrain vehicles and personal watercraft.
The history of surfing in Wrightsville Beach began in 1909, when surfers paddled their surfboards into waves and rode standing up. Eventually seeing how much fun they were having, people on the shoreline likely snatched up a surfboard and headed out for some fun.
North Carolina's version of Johnny Appleseed, Burke Haywood Bridgers, a resident of Wrightsville Beach, emerged along the island's shores and introduced his beloved pastime to the rest of the state. The Bridgers family owned homes on Wrightsville Beach as early as 1885. Burke organized surfers, rode surfboards, promoted surfing activities and founded the earliest verifiable surfing movement and community in North Carolina 106 years ago. Using solid wooden plank surfboards this group of surf pioneers, which included John Vail Fergus, helped make surfing an integral part of our beach culture.
The state of North Carolina is commemorating this formative event and the people who brought surfing to our state by creating a North Carolina Highway Historical Marker that will be placed on the island of Wrightsville Beach. The marker highlights the advent of the island's surf civilization, a heritage that is celebrated by local residents. The N.C. Historical Marker for Pioneer East Coast Surfing was dedicated and erected on October 18, 2015 (12:00PM) at the intersection of Waynick Boulevard and Bridgers Street.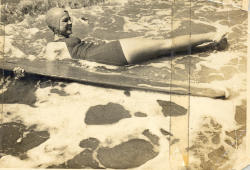 By the1930s, hollow wooden surfboards with a stabilizing fin were introduced, which increased bounce and maneuverability. The hollow surfboards were available commercially, from 1932 until 1950.  Notable Wrightsville Beach wave riders of this period include John R. Handby, Katherine Meier Baird, Claire Fergus Funderburg and Laurence Gray Sprunt. Within a year, after World War II, surfing at Wrightsville Beach had entered one of the great periods of change. North Carolinians distanced themselves from war and the Depression, and the nation as a whole. This new gaze pointed excitedly to the future.
From the 1950s until today, surfboards transformed from wood to the modern fiberglass and polyurethane foam boards. Wrightsville's standout wave riders of the 1950s include Stanley Winborne, III and J.M. Brinkley. The traditional long surfboards were introduced in the 1960s, which are still popular today. Notable surfers of this period include J. Skipper Funderburg (inductee in the Wrightsville Beach Waterman Hall of Fame) and Will Allison (inductee in the East Coast Surfing Hall of Fame). By the 1970s, short surfboards were introduced, which increased maneuverability and provided advantages over older style surfboards. During the following decades, fashion, language, media, competition, ritual and doctrine confirmed a way of life.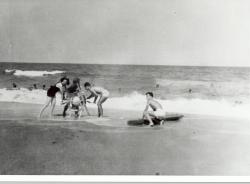 With the new 21st Century era of long boards, short boards, boogie boards and stand up paddleboards, surfers now enjoy an endless stream of surfboard friendly waves on Wrightsville Beach. People, place, culture and technology have produced a number of well-known professional surfers, shapers and industry heavyweights. The popularity of surfing boomed and the pursuit of a few dedicated surfers became a mass phenomenon. In 2014, the Wrightsville Beach Museum of History added the Wrightsville Beach Waterman Hall of Fame as a permanent exhibit.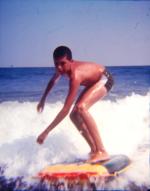 Inductees represent individuals who have made a positive impact on the island's surf culture. Modern-day surfers of note include professional surfer Ben Bourgeois—who grew up surfing at Wrightsville Beach where his family owns Sweetwater Surf Shop—and Jo Pickett, co-founder of Crystal South Surf Camp and organizer of the Wrightsville Beach Wahine Classic, an all-female surf competition.
Wrightsville Beach offers some of the best waves on the American East Coast. Beach breaks produce the majority of the world's best surfers, in part because waves demand quick reflexes and resolve. As a center for the advancement of surfing performance, surfers will find a good place on Wrightsville Beach to ride the waves, develop skills and familiarity with surfboard and wave.
Wrightsville Beach makes room for surfers of all skill levels and anyone who is attracted to wave riding. Visitors are welcome to take a turn front-and-center in the surf, then stretch out comfortably on the beach to relax. Non-surfers will enjoy gazing at the unique vista of the sun, sky, water, waves and jetting sea spray. But, beware it may be hard to resist picking up a surfboard and joining the lineup in the island's sparkling clean water! For a full surf immersion, plan a visit during one of the surf or SUP competitions that take place throughout the year.
It's no wonder that National Geographic magazine recently named Wrightsville Beach one of the "Last Best American Beach Towns." The island is also known as one of the world's premier surf towns, where visitors will find plenty of surf shops, surf schools, outfitters and surf-themed restaurants.
Let's go surfing!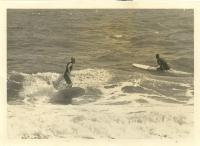 About the author: J. Skipper Funderburg is a pioneer surfer in his own right. A native of Wrightsville Beach, he is a well- seasoned traveler and master mariner. The treasures he liberated always included good surf. Funderburg has been writing about surfing for over fifty years and has become the State of North Carolina's premier surfing historian. He resides in Wilmington with his wife and two children. His book, Surfing on the Cape Fear Coast [SlapDash Publishing], is available at Wilmington-area booksellers.              [Photo to the right is the author surfing, c1966]