Whether you're looking for a couples' weekend retreat, a trip with friends, a solo road trip or a fun family getaway, Wrightsville Beach is the perfect destination for a quick road trip to the coast.
Known as North Carolina's most accessible beach and a convenient drive for travelers in North Carolina and nearby states, Wrightsville Beach is the perfect home away from home for an active staycation. Read on for our guide to 48 hours of adventure and relaxation in Wrightsville Beach. 
Friday
Settle In
Check in for a weekend getaway to remember at one of our island lodging options. Whether you're looking for a romantic getaway for two at a resort with amenities or a spacious place for the whole family, there are plenty of options to meet your vacation needs. 
Browse our wide selection of vacation rentals to find the perfect spot to dip your toes in our crystal blue water. From private pools and peaceful patios to fresh linens and fully stocked kitchens, you'll feel right at home in Wrightsville Beach. 
Wake up to waves crashing on the shore at one of our full-service hotels. The Holiday Inn Resort Wrightsville Beach features a fitness center with a view, seasonal poolside bar and grill and spacious rooms and suites with oceanside views. The Blockade Runner Beach Resort offers premier rooms and surf-to-sound amenities like lush oceanfront gardens, an award-winning on-site restaurant and more. Shell Island Resort features full-service suites, indoor and outdoor pools and a poolside tiki bar and grill. 
Saturday
Rise and Shine
Wake up early and grab a quick breakfast at Zeke's Beans & Bowls, where you'll find a selection of refreshing acai bowls and juices to fuel your day. Then, head to the beach to catch the sunrise over the ocean before kickstarting your day with a weekend wellness activity. 
Grab your yoga mat and take your practice outdoors on the beach or at Harbor Way Gardens. 
Walk, jog or run The Loop or head to the beach for a run along the shore. 
Rent bikes for a ride the whole family will enjoy. 

Cruise along the 15-mile Gary Shell Cross-City Trail, a primarily off-road trail offering picturesque views of the Intercoastal Waterway.  
Or, set out on the River to Sea Bikeway for an adventure that will take you from Historic Downtown Wilmington to Johnnie Mercers Pier.  
Afternoon Adventure                       
Head to Trolly Stop to choose from their famous selection of more than 1,000 creative topping combinations on five different types of hot dogs, or grab some of the famous chicken salad from Robert's Grocery for a scenic picnic. After lunch, set out for an excursion on the water. Known for world-class watersports and crystal blue waters, Wrightsville Beach offers both adventurous and relaxing waterside experiences. 
Leave your worries on dry land with a private stand-up paddleboard lesson, or head out on your own with paddleboard rentals available from local outfitters. 
Hang ten and hit the waves in one of the best surfing towns in the world. Stop in for a coffee at SUNdays Café, a favorite of local surfers, to fuel up for your adventure. Then, check out our variety of options for private lessons and gear rentals. 
Cast your line from land or sea to reel in the catch of the day. 
Dinner to Remember
Visitors staying in a vacation rental will enjoy a trip to Motts Channel Seafood to select their favorite fresh catch for a casual dinner prepared at "home." If available, dine outside at one of Wrightsville Beach's scenic alfresco options, or pick up dinner and dine seaside at your vacation rental or hotel.
Choose from the constantly evolving menu of Southern-inspired specials at South Beach Grill, open for dine-in service and pickup.  
Enjoy stunning views while dining in at Wrightsville Beach's standalone beachfront restaurant, Oceanic Restaurant also offering takeout for its coastal classics. 
Or, take in panoramic views of the Intracoastal Waterway as you dine on the catch of the day from The Bridge Tender.
End the evening with a sweet treat at Kohl's Frozen Custard, where you can enjoy sundaes, shakes, smoothies and banana splits.  
Sunday
On the Water
Wrap up your trip with a kayak rental from Wrightsville Kayak. Paddle on the calm waters along the salt marsh lining the Intracoastal Waterway, or take a remote island adventure to Masonboro Island Reserve, the longest undisturbed barrier island ecosystem in southern North Carolina. 
Or, embark on a private excursion with one of our island adventure companies: 
Test the waters with a private family sailing lesson from Wrightsville Performance Sailing. 
Experience a sailing adventure or wildlife in its natural setting as the whole family paddles out with kayak rentals from Soundside Adventures.
Take a private charter with Bluewater Transport Charters to explore Wrightsville Beach's crystal blue waters.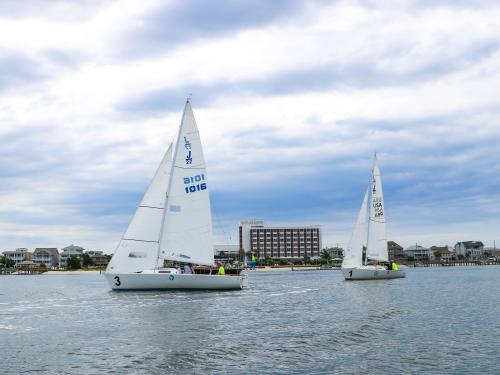 Soundside Adventures
A Quick Bite
Before you head home, grab a final island bite at one of our local favorite eateries. Feel the sea breeze as you dine outdoors at Bluewater Grill or Dockside Restaurant, or indulge in local favorites by dining in or grabbing takeout from Shark Bar & Kitchen, located next to Johnnie Mercers Pier. Or, spice up your weekend with sizzling fajitas or blackened tuna tacos at Tower 7 Baja Mex.
If you're itching to set your watch to island time, Wrightsville Beach is the perfect escape for a getaway or active staycation.