The "Wright" Place is at Wrightsville Beach
Activities abound during a family vacation in Wrightsville Beach, North Carolina
by Katie Jackson
Whoever said that planning a family vacation was too stressful hasn't planned a Wrightsville Beach vacation. Granted, this is my fifth year of putting together our annual spring break trip to this North Carolina slice of paradise, so I should be a pro by now. I wear many hats—all of which fall under the always-busy mom hat—so the fact that I spend more time wearing my beach hat than my travel agent hat impresses all my mom friends. They ask me what my secret is, and I tell them it's simple: it's all about the destination.
Location, location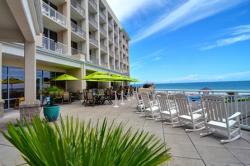 An easy two-hour drive from Raleigh (and close to Wilmington's ILM airport), Wrightsville Beach was a natural choice for me when I was first looking for a convenient coastal getaway. This beautiful barrier island is billed as North Carolina's most accessible beach. What makes it unique is you're far enough from the hustle and bustle that can keep you from feeling like you're in full-blown vacation mode. Even in spring, which is when we usually visit, it's easy to find plenty of vacation-y things to do. We like that the average daily high in March and April hovers around 70 degrees, but what we like even more is that hotel rates aren't too high.
Of course our kids are huge fans of the full-service hotels that have on-site activities like surfing lessons and kids clubs (Blockade Runner Beach Resort and Holiday Inn Resort Wrightsville Beach). When my parents or in-laws come with us, we usually end up renting a spacious beach house that overlooks the Intracoastal Waterway. On a future trip (sans kids), my husband and I are going to indulge in a romantic stay in one of the island's charming cottages.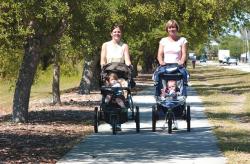 Wherever we stay on the island, we always have easy access to the beach, and unless we take our rental car into nearby Wilmington, we can usually get by on our bike rentals. The island is about four miles long, and the kids love exploring it on their beach cruisers. I like that I can get in my morning run at The Loop, a 2.5-mile pathway popular with runners, joggers and cyclists. Much like the beaches and waterways that surround the island, The Loop is a hub of recreation for this outdoors-oriented community.
Outdoor activities galore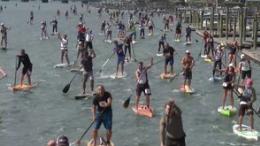 The locals lead very active styles—it would be impossible not to given the year-round pleasant weather. From surfing and canoeing to kayaking and standup paddleboarding, watersports reign supreme. As much as possible we try to coordinate our vacation with the world-famous Carolina Cup SUP race held in April. This year, we're especially looking forward to the first-ever Stand Up Paddleboard Surfing Pro-Am Competition. My son, Kelly Slater-in training, dreams of competing in the Waterman Ocean Festival that occurs around the same time. He read that Wrightsville Beach was one of National Geographic's Top 20 Surf Towns and begs me to bring him back for the Reef/Sweetwater Pro-Am Surf Fest in July. 
We don't usually visit Wrightsville Beach in the summer—despite hearing about fantastic free summer concert series, like the one at Airlie Gardens. We did, however, visit in May one year and my husband was able to fish in the annual Cape Fear Blue Marlin Tournament. Regardless of when we visit, we usually try to do an eco-scavenger hunt on Masonboro Island. Between Wrightsville Beach Scenic Tours and the Coastal Education Center, there are plenty of opportunities to learn about the island's ecosystems and experience its natural beauty. Bird watching is one of my dad's favorite pastimes, so when he joins us, he usually takes to the many trails and photographs the wildlife.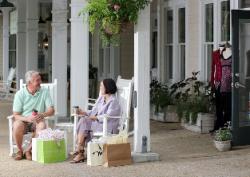 My mom, on the other hand, could spend all day shopping. She recently celebrated her 70thbirthday and loves spending the entire morning browsing in the Lumina Station stores before taking a stroll along Wilmington's historic Riverwalk and checking out the unique shops downtown. There are many locally owned restaurants in Wilmington and Wrightsville Beach, and we always try to get our fill of seafood while we're so close to the source.

Home away from home
The peace of mind that comes with knowing that Wrightsville Beach is committed to maintaining a cleaner, and greener, beach is priceless. In addition to not having to worry about litter and cigarette butts (Wrightsville Beach was the first beach in North Carolina to ban smoking), we also don't have to worry as much about safety. The friendly Ocean Rescue lifeguards are out and about—even before Memorial Day.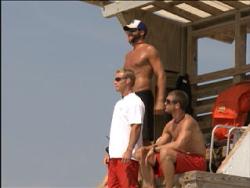 Memorial Day may mark the unofficial start to summer—arguably the most highly anticipated season of the year—but for our family, spring is just as special. It means more adventures in our much-loved home away from home. It means more "wows" and more time spent enjoying the "now." It means more valuable moments that bring our family together in ways that can only be found in Wrightsville Beach.
After all, the secret to my impressive track record of successful family vacations isn't rocket science. It's all about the destination, and Wrightsville Beach certainly delivers when it comes to exceeding my family's high, and diverse, expectations. They say the hardest part of vacationing at Wrightsville Beach is going home. It's true, but knowing that you can always come back so easily makes it much easier to say goodbye, or in my family's case, "We'll meet again soon…" 
Click for your free visitor guide and start planning your Wrightsville Beach getaway!