Wrightsville Beach is known for its active island lifestyle and wellness activities. From exciting watersports to fresh, coastal cuisine, Wrightsville Beach is the perfect destination for your next fall adventure. If you're looking for new and exciting ways to pair outdoor escapades with local favorites, follow along to plan your next getaway.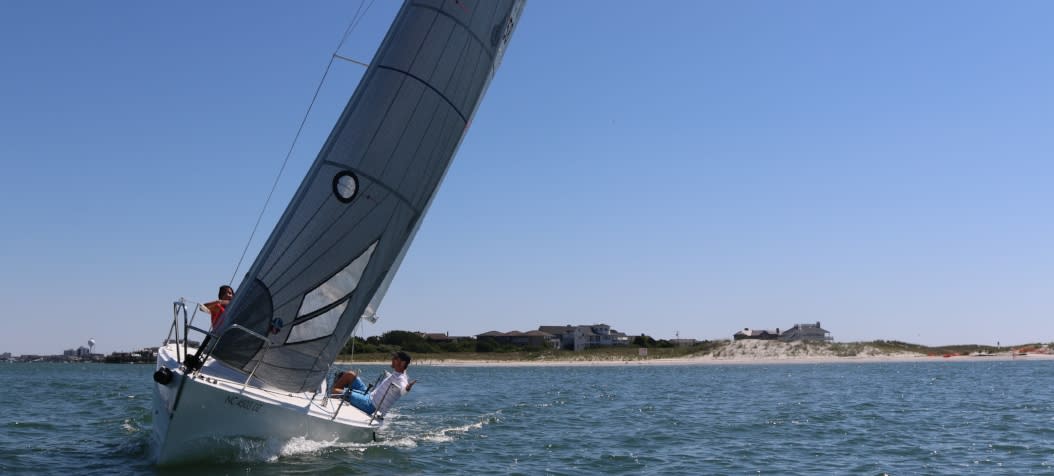 Glide Along
Put a spin on your daily workout routine while visiting one of the best "SUP Hubs" in the U.S., according to Outside magazine. Take a SUP yoga or fitness class with Cape Fear Paddleboarding then cool down with an acai bowl from Surfberry.
Enjoy a little active exploration under the stars with Wrightsville SUP's night tour, where LEDs light the way beneath your board as you explore inland creeks. After a day spent exploring the waves, unwind by soaking up the nightlife and checking out the island's live music scene at waterfront venues including an oceanfront pier (the Oceanic) and an Intracoastal Waterway restaurant (Bluewater Waterfront Grill).
Create a unique experience the entire family will remember when you pursue our waterways in a six-person outrigger canoe. Continue the bonding with a stop at a local landmark, Trolly Stop, and enjoy a customizable hot dog with over 1,000 combinations available.
Paddle along the Intracoastal Waterway, through Bank's Channel, or head to a remote island for unspoiled beauty and adventure with Wrightsville Kayak Company. After a day of exploring our waterways, head to the go-to local hangout, Jimmy's at Red Dogs, where you can enjoy live music from regional bands. Then, head down the street to a legendary late night pizza spot for a thin crust pie at Vito's Pizzeria.
Bird's Eye View
Take in the waves from a bird's-eye view by parasailing over the ocean with Wrightsville Parasail. End the night at the Palm Room where you'll enjoy live music, friendly faces and an ice cold beer or cocktail – the perfect combination for a great night.
Sail Away
Embark on a journey around the island with an experienced captain guiding your way through the channels with Wrightsville Performance Sailing. If you're looking to be your own captain, learn nautical terminology, basic knots and sailboat rigging at the Blockade Runner Sailing School. After a day at sea, head over to Banks Channel for a relaxing evening of pub grub, brews and ping pong.
Ride the Waves
Suit up, rent a board and learn to surf at Indo Jax Surf School. Want a different kind of surf? Try wake surfing with Shred the Gnar where even if it's your first time getting up, they'll have you mastering inverts and spins like the pros in no time. Leave time for an afternoon surf session after a quick bite for lunch at Shark Bar & Kitchen, located next door to Johnnie Mercer's Pier. After you're surfed out, head to local favorite, Tower 7 Baha Mex, for a meal that will fuel your evening.
Under the Sea
Travel just offshore and dive beneath the water's surface to discover sunken sites with Diving Carolina before indulging in eclectic Southern comfort food from a daily blackboard menu reflecting seasonal local offerings at 22 North.